Sakae Celestial Exotic 5 Piece Shell Pack Caribbian Blue Tamo

Out of stock - Call for Availability
Sakae Celestial 5 Piece Shell Pack Exotic Caribbean Blue Tamo Five Piece
Limited Edition Sakae Celestial Series shell set in Exotic Caribbean Blue Tamo finish.
ASK AN EXPERT
We're here and ready to help!
800-637-8966
Hablamos Español

Out of stock - Call for Availability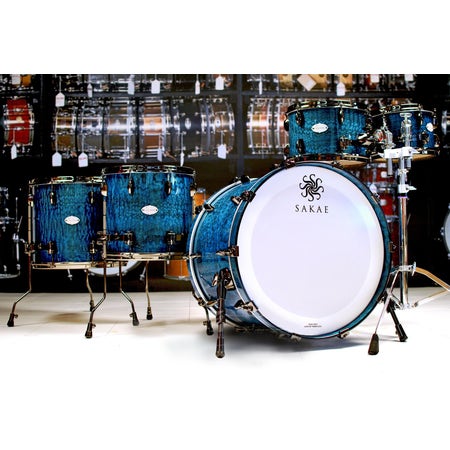 Sakae's Celestial Series features the new "Chamber Specific Technology" (CST). CST is one of many innovations in the brand's 88th anniversary and is the result of decades of collaboration with the world's top drummers. It is Sakae's belief that in the quest for the ultimate resonance and tone, the individual shells in a set should not be limited by certain aspects such as layer thickness, bearing edge type or composition. North American Maple wood and exotic African Bubinga wood are used as the basis for these hybrid drums. Two layers of African Bubinga wood, known for its great resonant properties and sound projection, are used for the shell's exterior. By having the hard wood against the bearing edge, where it comes into frequent contact with the shell, the deepest characteristics of the Bubinga wood are expressed. By maintaining the wood's consistent tone and resonance level, Sakae has the ability to accurately determine the low bass, sustain and projection for each of the different shells. And that is now the secret behind the new "Chamber Specific Technology". Building on this philosophy, each shell is treated individually to obtain the best possible sound. Thanks to this CST procedure, Sakae can successfully fine-tune each drum until the ultimate musical tone is achieved.