Mikawa Master Series Flute
Out of stock - Call for Availability
The Mikawa Flutes are designed to provide the player with the flexibility to produce a darker tone when required as well as a quick, free response and excellent intonation through each register of the instrument.
Each Mikawa Flute is carefully inspected, hand adjusted and play tested in our facility in Dallas, TX. Mikawa is proud of the quality of instruments produced under its name and the beauty of the music performed on its instruments. All Mikawa Flutes are offered with a six year limited warranty!
ASK AN EXPERT
We're here and ready to help!
800-637-8966
Hablamos Español
Out of stock - Call for Availability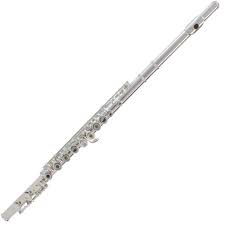 Mikawa DY461HM Master Series Flute The Mikawa Flutes are designed to provide the player with the flexibility to produce a darker tone when required as well as a quick, free response and excellent intonation through each register of the instrument. Each Mikawa Flute is carefully inspected, hand adjusted and play tested in our facility in Dallas, TX. Mikawa is proud of the quality of instruments produced under its name and the beauty of the music performed on its instruments. All Mikawa Flutes are offered with a six year limited warranty! Features: Key of C Open hole flute/French model Solid silver headjoint Solid silver body Solid silver foot B foot Offset G key Includes case, case cover, cleaning rod and flute plugs