Bach Professional Tenor Trombone Model LT42BOFG

Out of stock - Call for Availability
>MODEL LT42BOFG
The year 2018 represents a milestone in the history of Vincent Bach. Having started his business in 1918, master craftsman Vincent Bach created a legacy with the introduction of the first Bach trumpets in 1924 and the addition of trombones to the Vincent Bach line around 1928. To celebrate a legacy lasting 100 years, Conn-Selmer and Vincent Bach proudly present the new LT42BOFG commemor... See More
ASK AN EXPERT
We're here and ready to help!
800-637-8966
Hablamos Español

Out of stock - Call for Availability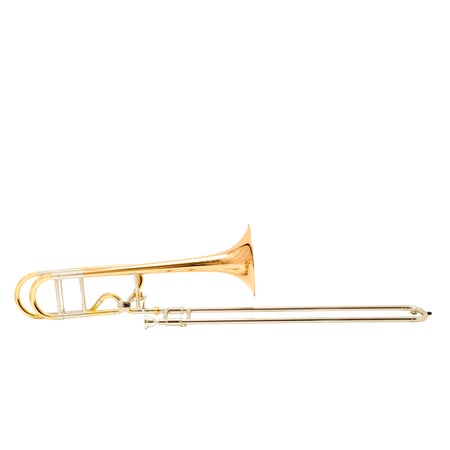 >MODEL LT42BOFG
The year 2018 represents a milestone in the history of Vincent Bach. Having started his business in 1918, master craftsman Vincent Bach created a legacy with the introduction of the first Bach trumpets in 1924 and the addition of trombones to the Vincent Bach line around 1928. To celebrate a legacy lasting 100 years, Conn-Selmer and Vincent Bach proudly present the new LT42BOFG commemorative trombone.
FEATURES
A traditional 42 bell, with the ultimate in tonal response and ability to change the color of sound. "Bell-free bracing" allows the bell to vibrate freely, creating a quicker response with more clarity and projection. European designed "Open-Flow" valve, creating an ease of playability in the low register, while maintaining a great high range as well. Jay Friedman, principal trombonist with the Chicago Symphony Orchestra, was involved with the design of this trombone. .562" bass bore handslide or lightweight nickel handslide is available.
TECH SPECS
Gold brass bell
Lightweight nickel handslide
European designed, open-flow rotary valve
"Bell-free bracing" style
.547" bore
Traditional 42 slide mouthpipe
Genuine Vincent Bach model 3416HA mouthpiece
Deluxe Centennial model wood shell case