Sonor KS40LBW Tenor-Alto, Light Alloy, Boomwhacker Chime Bar Set

Out of stock - Call for Availability
Sonor KS40LBW Tenor-Alto, Light Alloy, Boomwhacker Chime Bar Set
These chime bars feature metal bars in official Boomwhacker® colors with note names in large visible labels to reinforce note recognition. The bars can be lined up in a row, grouped by triads or distributed in class as single instruments getting more children involved. Due to the unique arrangement of colors and notes, it is easier to p... See More
ASK AN EXPERT
We're here and ready to help!
800-637-8966
Hablamos Español

Out of stock - Call for Availability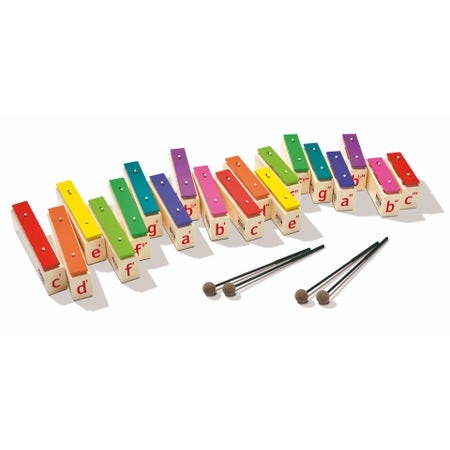 Sonor KS40LBW Tenor-Alto, Light Alloy, Boomwhacker Chime Bar Set
These chime bars feature metal bars in official Boomwhacker® colors with note names in large visible labels to reinforce note recognition. The bars can be lined up in a row, grouped by triads or distributed in class as single instruments getting more children involved. Due to the unique arrangement of colors and notes, it is easier to play songs without extensive notation experience.
Having bars which match the official Boomwhacker® colors makes it easy to use alongside the wide variety of instructional material already available.
This set is a great choice to use in classrooms, therapy settings, or active music making anywhere.
Diatonic, c1-c3
15 bars, Alloy metal
Includes 2 pair of SCH 23 mallets