Jacob Horst 1/2 Violin Outfit - HV12

Out of stock - Call for Availability
ASK AN EXPERT
We're here and ready to help!
800-637-8966
Hablamos Español

Out of stock - Call for Availability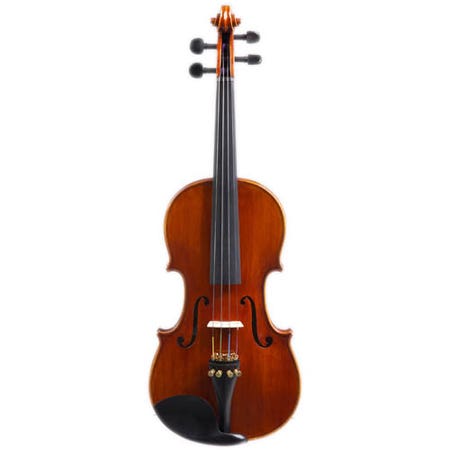 Horst 1/2 Violin Outfit
Product Information:
"It is said that music comes from the heart; so must the instrument that makes the music be an inspiration for the soul. The string instruments that we craft from these beautiful woods take on a life of their own, an extension of life after life. Each instrument that we create is an expression of that spirit. These fine instruments simply await your touch to reawaken to life once again." Jacob Horst 4/1/91
Each Jacob Horst instrument is exactingly set-up by Brook Mays music luthiers to meet and surpass many specifications and standards. Careful fitting and adjusting of the sound post, pegs, nuts, dressing of the fingerboard and fitting of the bridges makes for quality instruments to meet the needs of students and teachers, guaranteeing instruments of superb playability and quality.
A Stradivarius pattern violin, the top is crafted from select solid spruce the back and sides from maple. The Violin has full ebony fittings fingerboard, inlaid purfling; the tailpiece has four fine tuners, nut, peg and an oil varnish finish.

Features:
Spruce top
Maple back and sides
Fiberglass bow with horsehair
Molded & shaped case with metal valance
Perlon strings
Rosin
Four fine tuners
Enhanced set up

Specifications:
Model Name: Horst 1/2 Violin Outfit
Model #: HV12
Series: 1/2 violin