Bach Stradivarius "Artisan" Trombone Model A47I

Out of stock - Call for Availability
MODEL A47I
The new Artisan Trombone Collection is the newest and most exciting development in Bach Stradivarius professional trombones. The new A47I is completely modular system allowing each player to customize the Artisan trombone to meet their own playing needs. It features the new "Infinity" axial flow valve. This patented valve design eliminates the metal-to-metal contact found in any other axial ... See More
ASK AN EXPERT
We're here and ready to help!
800-637-8966
Hablamos Español

Out of stock - Call for Availability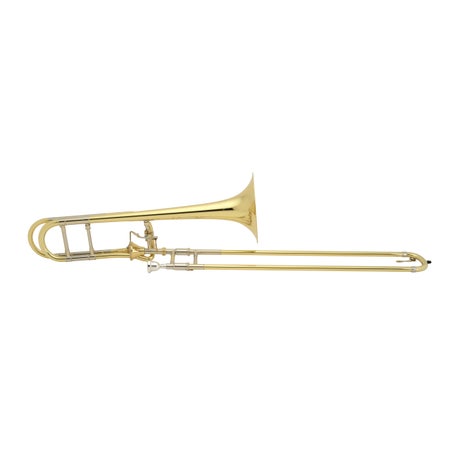 MODEL A47I
The new Artisan Trombone Collection is the newest and most exciting development in Bach Stradivarius professional trombones. The new A47I is completely modular system allowing each player to customize the Artisan trombone to meet their own playing needs. It features the new "Infinity" axial flow valve. This patented valve design eliminates the metal-to-metal contact found in any other axial flow design through the use of sealed bearings both in the nose and in the back plate. This assures tight tolerances that will resist wear over time. The 8-1/2" one-piece hand-hammered yellow brass Bach Artisan will define the symphonic sound for generations. The .547" large bore combined with the patented "Infinity" valve and open wrap F attachment offers a warm sound, great projection, and an efficient and open feel. The new reverse main tuning slide construction offers an more open response. The chrome plated nickel silver inner handslide tubes provide the ideal surface for smooth and quick handslide action. The clear lacquer finish adds a subtle warmth to the sound overall. The Bach Stradivarius A47I professional trombone is ideal for both symphonic and solo performance.
TECH SPECS
New modular design
.547" large bore
New 8-1/2" one-piece hand-hammered detachable yellow brass Artisan bell
Reverse construction yellow brass main tuning slide crook, new yellow brass outer slide
Clear lacquer finish
Deluxe engraving
Artisan woodshell case
Also available with optional gold brass and lightweight gold brass detachable bells, gold brass and nickel silver main tuning slide crooks, and lightweight nickel silver tenor handslide and yellow brass bass handslide.