Selmer Paris Professional Clarinet Model A1610REV

Out of stock - Call for Availability
MODEL A1610REV
Henri Selmer Paris is proud to announce a new generation to their models of clarinets, the Évolution Series. Henri Selmer Paris clarinets are renown for their incredible consistency, tone quality, great intonation, and incredible quality. The Évolution Series brings an element of reliability and stability that has never before been seen in the professional clarinet world. Due t... See More
ASK AN EXPERT
We're here and ready to help!
800-637-8966
Hablamos Español

Out of stock - Call for Availability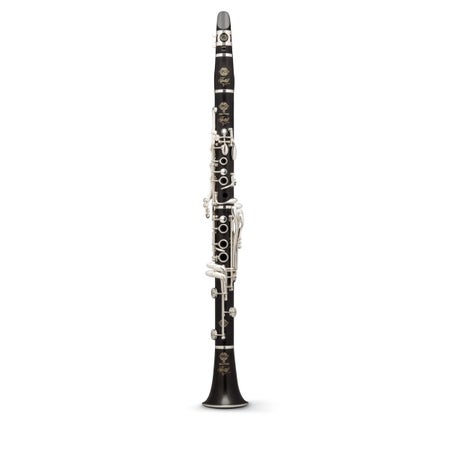 MODEL A1610REV
Henri Selmer Paris is proud to announce a new generation to their models of clarinets, the Évolution Series. Henri Selmer Paris clarinets are renown for their incredible consistency, tone quality, great intonation, and incredible quality. The Évolution Series brings an element of reliability and stability that has never before been seen in the professional clarinet world. Due to the features of the material and production process we use on the upper joints, the following advantages are achieved:
Greater stability in dimensional variation: the bore does not move or change and the reliability of the fit of the barrel onto the upper joint is improved
Waterproof: no more cracks
Better thermal conductivity: the instrument heats up and gets to pitch more quickly
Smoother response on all registers
Each evolution upper joint is indicated with a small star near the serial number
FEATURES
With its exceptionally thick wood, the Recital is favorite for clarinetists seeking a dark, rich tone. The sophisticated design of the bore gives the Recital exceptional presence. The diameter of the joints is bigger than a traditional model by two millimeters. The Recital is an expressive instrument for those who are looking for "a dark sound".
TECH SPECS
Key of A
Larger diameter joints than standard models
Adjustable thumb rest
Grenadilla wood
Bore 14.30mm/.567 inch
Key system Boehm standard (18 Keys, 6 rings)
Silver-plated nickel-silver keys
Double skin pads
Blue steel needle springs
Selmer Paris Prisme case