Selmer Paris Jubilee Edition Series III Eb Baritone Saxophone Model 66AFJM

Out of stock - Call for Availability
MODEL 66AFJM
The Selmer Paris Series III baritone is the gold standard in classical saxophones. The 66AFJM is identical to the 66AFJ, except the matte lacquer provides a unique look and warmer tone. Its sound is superbly crafted and its ergonomics have been duplicated the world over. The Series III soprano, alto, tenor and baritone saxophones epitomize speed. Lightning-quick response and flawless ergono... See More
ASK AN EXPERT
We're here and ready to help!
800-637-8966
Hablamos Español

Out of stock - Call for Availability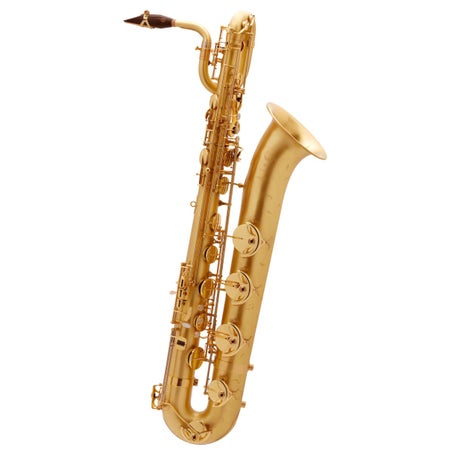 MODEL 66AFJM
The Selmer Paris Series III baritone is the gold standard in classical saxophones. The 66AFJM is identical to the 66AFJ, except the matte lacquer provides a unique look and warmer tone. Its sound is superbly crafted and its ergonomics have been duplicated the world over. The Series III soprano, alto, tenor and baritone saxophones epitomize speed. Lightning-quick response and flawless ergonomics make these saxophones move; allowing you to perform at the speeds you need in these hyper-fast times. Instead of traditional brass, these saxophones are built on a platform with a slightly higher copper content-creating a rich warm tone that is automatic from the first breath into the instrument.
FEATURES
The Selmer Paris Series III 66AFJM Baritone Sax features include: Key: E-flat; Range: low A/high F#; Multi-directional brass thumb rest; Blue steel needle springs; Waterkey: on the upper bow; Metal booster leather pads, without rivet; Matte lacquer over yellow brass with extra copper content; Keys are still clear lacquer; Short Peg; Mouthpiece: S80 C*;Â  and Flight case w/wheels and backpack straps.