Selmer Paris Jubilee Edition Series II Eb Baritone Saxophone Model 55AFJM

Out of stock - Call for Availability
MODEL 55AFJM
Flexible enough to perform quartet work or anchor the front line of a big band, the Selmer 55AFJM baritone saxophone features a range to low A, adjustable thumb rest, blue steel springs, and leather pads with metal boosters. The matte finished brass body of the Selmer Series II baritone saxophone is also beautifully engraved and provides a unique look and warm tone. The keys are still clear... See More
ASK AN EXPERT
We're here and ready to help!
800-637-8966
Hablamos Español

Out of stock - Call for Availability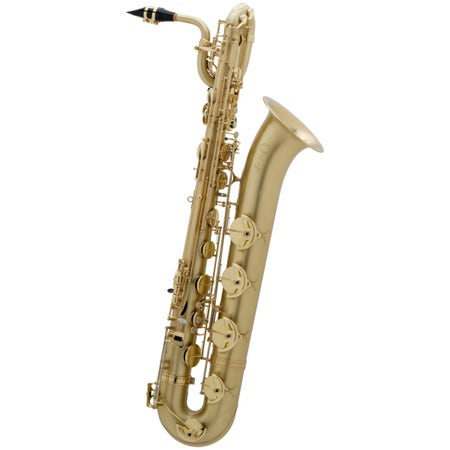 MODEL 55AFJM
Flexible enough to perform quartet work or anchor the front line of a big band, the Selmer 55AFJM baritone saxophone features a range to low A, adjustable thumb rest, blue steel springs, and leather pads with metal boosters. The matte finished brass body of the Selmer Series II baritone saxophone is also beautifully engraved and provides a unique look and warm tone. The keys are still clear lacquer. It's complete with wheeled case, Selmer Paris mouthpiece, and cap and ligature. The Series II sopranino, soprano, alto, tenor, baritone, and bass saxophones have been the professional choice for a generation and continue to be the most popular professional saxophone in the world. The reasons are clear: they all possess a flexible but centered tone that is natural in almost any playing situation. Yellow brass body tubes and keys resonate across the entire timbre spectrum: full-ribbed construction enhances their durability. The Series' superior intonation characteristics make these saxophone a natural choice for any professional or those who aspire to be.
FEATURES
Range to Low A, Hand engraved bell, Matte finish brass body construction with clear lacquer keys, High F# Key/Low A/Tilted Bb Spatula Key, Power hammered keys, Metal resonators.