Bach Professional Tenor Trombone Model 42

Out of stock - Call for Availability
MODEL 42
The Bach Story
Born Vincent Schrotenbach in Vienna in 1890, he initially received training on the violin, then switched to the trumpet when he heard its majestic sound. Although Vincent also displayed a strong aptitude for science and graduated from the Maschinenbauschule with an engineering degree, he gave up a promising engineering career to pursue his first love and an uncertain... See More
ASK AN EXPERT
We're here and ready to help!
800-637-8966
Hablamos Español

Out of stock - Call for Availability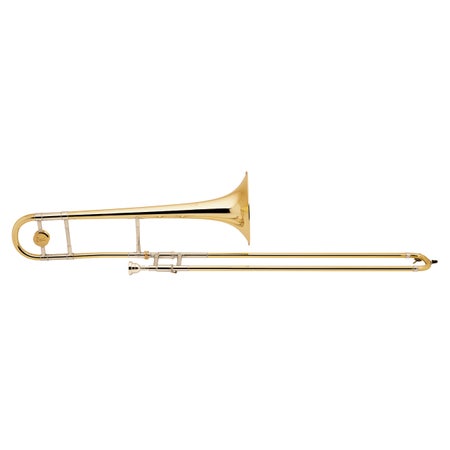 MODEL 42
The Bach Story
Born Vincent Schrotenbach in Vienna in 1890, he initially received training on the violin, then switched to the trumpet when he heard its majestic sound. Although Vincent also displayed a strong aptitude for science and graduated from the Maschinenbauschule with an engineering degree, he gave up a promising engineering career to pursue his first love and an uncertain future as a musician. The risk paid off. Performing under the stage name of Vincent Bach, he established musical success as he toured throughout Europe.
World War I forced Vincent's move to New York City where he arrived with only $5.00 in his pockets. A letter to the famous conductor Karl Muck got Vincent an audition and a resulting position with the Boston Symphony. By the following season, Vincent was first trumpet in the Metropolitan Opera House opera and ballet orchestras, performing in the American premiere of Stravinsky's Petroushka and Firebird. While on tour in Pittsburgh, Vincent was convinced by a repairman who said that he could improve the mouthpiece on Vincent's trumpet. After the man ruined the mouthpiece, Vincent had great difficulty finding a suitable replacement. This was the beginning of Vincent's realization of the very real need for high-quality mouthpieces.
His discovery was further substantiated when, during the World War, Vincent served as sergeant and bandmaster of the 306th Army Field Artillery Band at Camp Union, Long Island. As head of the bugle school, Vincent found both mouthpieces and instruments to be of inferior quality. While on furloughs, Vincent went to New York City where he remodeled old mouthpieces and made new ones in a back room of the Selmer Music Store. In 1918, while performing part-time at the Rivoli Theater, Bach invested $300 for a foot-operated lathe and an office at 11 East 14th Street to begin the business of producing mouthpieces. The business grew rapidly and, in 1924, the first Bach trumpets were manufactured. Musicians frequently referred to a Bach trumpet as "a real 'Stradivarius' of a trumpet," thus inspiring the brand name Bach Stradivarius. Bach trombones followed in 1928.
At the age of 71 in 1961, Bach decided to sell his company. Although he received twelve other offers, including some that were higher, Vincent chose to sell to The Selmer Company. His close relationship with Selmer over the years convinced Vincent that this was the company that would preserve the Bach tradition of excellence and expand upon the foundations he built. All tooling and machinery was moved from Mount Vernon, New York to Selmer's operations in Elkhart, Indiana, with Vincent assisting in the training. True to Vincent's vision, The Selmer Company still painstakingly follows Bach's original designs and blueprints to this day.
TECH SPECS
Standard "Stradivarius"
.547" Large Bore
8-1/2" One-Piece Hand-Hammered Bell
Brass Outer Slide
Clear Lacquer
Genuine Vincent Bach Mouthpiece
Deluxe Wood Shell Case
5 Year Limited Warranty