Gemeinhardt 3OSHB Solid Silver Head Flute - Offset

Out of stock - Call for Availability
Sterling silver J1 headjoint, silver plated body, and B footjoint, French (open hole) keys, supplied in case with black nylon cover.
ASK AN EXPERT
We're here and ready to help!
800-637-8966
Hablamos Español

Out of stock - Call for Availability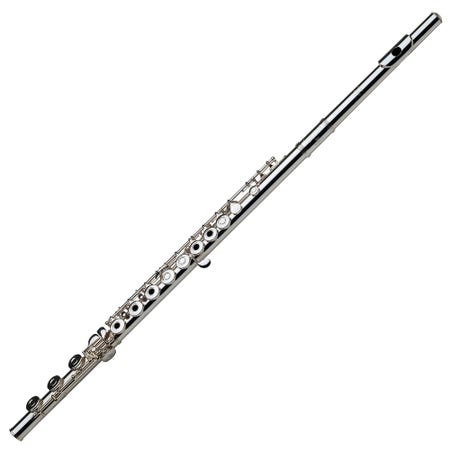 Durably Constructed Of The Finest Materials, Gemeinhardt Flutes Feature Integrally Drawn And Rolled Tone Holes, Power-Coined Keys, And Our Exclusive Four Post Footjoint Construction Which Make Our Flutes Exceptionally Strong. Other Features Include Gemeinhardt'S Unique Embouchure Hole Design, Proportioned Tone Holes And Pad Cups To Ensure Even Response And Extraordinary Tone Throughout All Registers. In Addition, A Gizmo Key (High C Facilitator) Is Standard On Every B Foot Model Flute. Gemeinhardt Flutes Also Feature Superior Key Mechanisms For Fast Action And Outstanding Playability. Known And Trusted For Their Acoustic And Mechanical Excellence, Gemeinhardt Flutes Have Become The Preference Of More Flutists Than Any Other Flute In The World. A Preference You'Ll Understand Once You Play Any One Of Our Remarkable Instruments. Advanced Students Appreciate The Mechanical And Acoustical Excellence Of Gemeinhardt Conservatory Instruments. They Offer A Full, Warm Tone And Are Available With A Variety Of Options That Include An In-Line G-A Key (Offset Version Available By Special Order) And Low B Foot. Designed To Provide Optimum Performance Within The Serious Student'S Price Considerations, Gemeinhardt Conservatory Flutes Offer Extraordinary Quality And Outstanding Value. Whenever You Purchase Any Conservatory Or Professional Model Gemeinhardt Flute Which Has A Solid Silver Headjoint, You May At The Time Of Purchase Exchange The Headjoint Through Your Gemeinhardt Authorized Dealer For Any Other Comparable Gemeinhardt Solid Silver Custom Headjoint At No Additional Cost.