ACDC100 CONDUCTOR'S CHAIR AND STRING BASSIST CHAIR

CONDUCTOR CHAIR/STRING BASSISTS' CHAIR
This chair is designed for use by conductors, string bassists or anyone needing a taller chair. The seat can be rotated 135 degrees or locked in position. An ergonomically designed seat with lower back provides back support and comfort. The seating... See More
ASK AN EXPERT
We're here and ready to help!
800-637-8966
Hablamos Español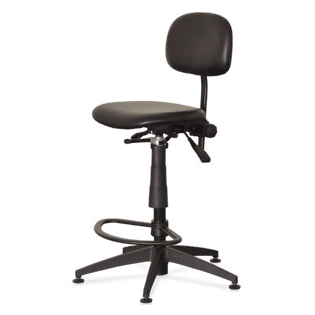 CONDUCTOR CHAIR/STRING BASSISTS' CHAIR
This chair is designed for use by conductors, string bassists or anyone needing a taller chair. The seat can be rotated 135 degrees or locked in position. An ergonomically designed seat with lower back provides back support and comfort. The seating posture with seat tilt and back angle adjustment design allows musicians more flexibility to find the proper seating position for performance.
PRODUCT SPECIFICATON
Unit Weight 29 lbs (13 kg).
ACDC100 Standard Version: upholstered with durable polyester fabric.
ACDC100P Premium Version: upholstered with vinyl with softness.
Seat and back cushion are made of high-resiliency contoured polyurethane foam.
Seat foam is 1"(25mm) thick. Back foam is 1"(25mm).
Chair post constructed of heavy duty 14 gauge(2mm) steel with black powder-coat paint finish.
Base is made of tough fiberglass reinforced material in black for stability.
The seat can be rotated 135 degrees. Swivel can be locked at any point of use.
Back height is adjustable within a 8"(20cm) range.
Back angle can be adjustable from +8° to -10° in point of use.
Seat height adjusts with pressurized gas cylinder from24"-32"(60-80cm).
Seat angle can be adjusted from +2° to -5°.
Foot rest height is adjustable from 10"-16"(26cm-40cm).


Product
was successfully added to the cart
Open Modal
Copyright All Rights Reserved © 2021