Bach Professional Tenor Trombone Model 42BG

Out of stock - Call for Availability
MODEL 42BG
The Bach Stradivarius 42BG is a professional large bore (0.547") symphonic trombone with a goldbrass bell, brass slide and a traditional wrap F attachment. The Bach 42 series trombone has defined the modern symphonic trombone sound. It has been copied in whole or part by many other makers, from large manufacturers to small specialty makers. The 42's characteristic sound is dark and resonant, ... See More
ASK AN EXPERT
We're here and ready to help!
800-637-8966
Hablamos Español

Out of stock - Call for Availability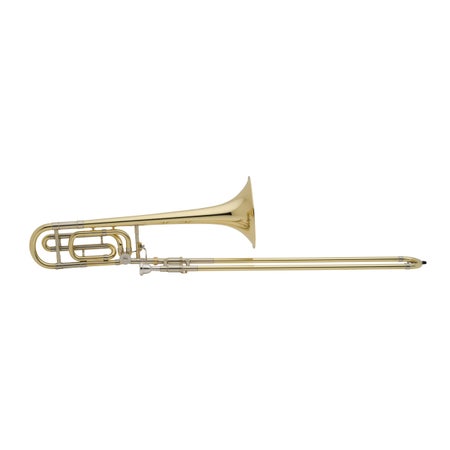 MODEL 42BG
The Bach Stradivarius 42BG is a professional large bore (0.547") symphonic trombone with a goldbrass bell, brass slide and a traditional wrap F attachment. The Bach 42 series trombone has defined the modern symphonic trombone sound. It has been copied in whole or part by many other makers, from large manufacturers to small specialty makers. The 42's characteristic sound is dark and resonant, with little edge and great carrying power. Like many of Vincent Bach's designs, it is famous for its ability to "slot," and for its uniformity of tone throughout its scale and dynamic range. It is especially well suited for orchestral work, where it can disappear into, subtly blend with or completely dominate an ensemble.
TECH SPECS
8.5" one-piece hand-hammered bell
Goldbrass bell material
Brass outer slide tubes
Seamless chrome-plated nickel silver inner slide tubes
Rotary Valve
Standard Wrap F Attachment
Nickel silver slide handgrips
Tubular nickel silver body braces
Bach 6.5A mouthpiece
Wood shell case