Vincent Bach 3415G Bach 5G Trombone Mouthpiece- Large Shank Baritone/Trombone (Large Shank) Mouthpiece

Out of stock - Call for Availability
Genuine Vincent Bach Mouthpieces Are The Best Available In The World. Bach Mouthpieces Are Designed To Meet Every Conceivable Playing Need And Have For Nearly Three Quarters Of A Century. A Bach Mouthpiece Will Make A Poor Instrument Play Well, A Good Instrument Play Better. Volume And Excellent Intonation; Ease Of Response In The High And Low Register; Rich... See More
ASK AN EXPERT
We're here and ready to help!
800-637-8966
Hablamos Español

Out of stock - Call for Availability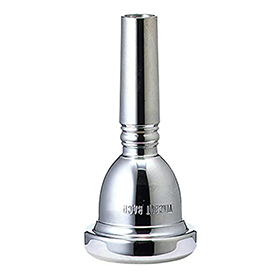 Genuine Vincent Bach Mouthpieces Are The Best Available In The World. Bach Mouthpieces Are Designed To Meet Every Conceivable Playing Need And Have For Nearly Three Quarters Of A Century. A Bach Mouthpiece Will Make A Poor Instrument Play Well, A Good Instrument Play Better. Volume And Excellent Intonation; Ease Of Response In The High And Low Register; Rich, Uniform Timbre Throughout The Range; Resistance Calculated To Increase The Player''S Endurance - These Characteristics Explain Why The Best Professional Artists Choose Bach.
Cup Depth: Deep
Cup Diameter: 25.50Mm
Rim Shape: Medium Wide, Semi Flat
Description: Same Rim Shape And Diameter As No. 5 Small Shank Tenor Trombone. Similar Playing Characteristics To 4G With A Slightly Smaller Cup Diameter .276" Throat/429 Backbore.

In Choosing A Special Combinatoin Of Rim, Cup, Throat, And Backbore Designs, Consider The Effects Of Each:
Rim
Wide: Increases Endurance
Narrow: Improves Flexibility And Range
Round: Improves Comfort
Sharp: Increases Brilliance, Precision Of Attack
Cup
Large: Increases Volume And Control
Small: Relieves Fatigue And Weakness
Deep: Darkens Tone, Especially In Low Register
Shallow: Brightens Tone, Improves Resonse, Especially In High Register
Throat
Large: Increases Blowing Freedom, Volume, Tone; Sharpens High Register (Largest Sizes Also Sharpen Low Register.)
Small: Increases Resistance, Endurance, Brilliance; Flattens High Register