Bach Professional Cornet Model 184ML

Out of stock - Call for Availability
MODEL 184ML
Vincent Bach combined his unique talents as both an accomplished musician and a talented engineer to create brass instruments of unequaled tonal quality. Often copied but never duplicated, Bach Stradivarius instruments today remain the sound choice of artists worldwide. The Bach 184 series short model shepherd's crook cornets are a natural fit for all ensembles from community bands to Britis... See More
ASK AN EXPERT
We're here and ready to help!
800-637-8966
Hablamos Español

Out of stock - Call for Availability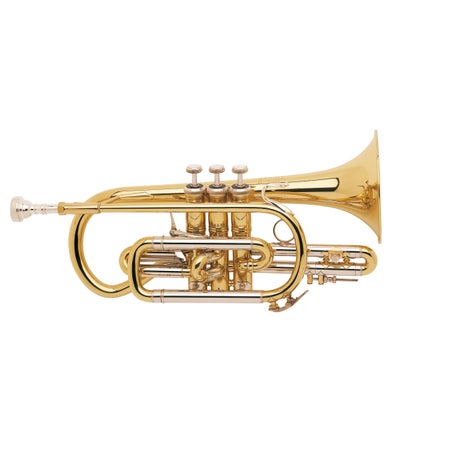 MODEL 184ML
Vincent Bach combined his unique talents as both an accomplished musician and a talented engineer to create brass instruments of unequaled tonal quality. Often copied but never duplicated, Bach Stradivarius instruments today remain the sound choice of artists worldwide. The Bach 184 series short model shepherd's crook cornets are a natural fit for all ensembles from community bands to British style brass bands.
FEATURES
"Stradivarius" - Short (Shepherd's crook) model, .459" medium large bore, yelllow brass one-piece hand-hammered bell, Monel pistons, clear lacquer finish, genuine Vincent Bach 6 cornet mouthpiece and woodshell case.
TECH SPECS
Bach "Stradivarius" - Short shepherd's crook design
.459" medium-large bore
Yellow brass one-piece hand-hammered bell
Monel pistons
1st slide thumb trigger
Adjustable 3rd slide rod stop
Clear lacquer finish
Bach 6 cornet mouthpiece
Includes woodshell case