Selmer Student Composite Clarinet Model 1400B

Out of stock - Call for Availability
MODEL 1400B
Based on the original designs of George Bundy's student clarinets, Selmer clarinets offer construction that is built to last a lifetime.  Combining durable drop forged nickel silver keys, straight cut tone holes, and a satin wood like finish, these instruments will hold up year after year. 

The 1400B clarinet is designed to be free blowing, allowing students to produc... See More
ASK AN EXPERT
We're here and ready to help!
800-637-8966
Hablamos Español

Out of stock - Call for Availability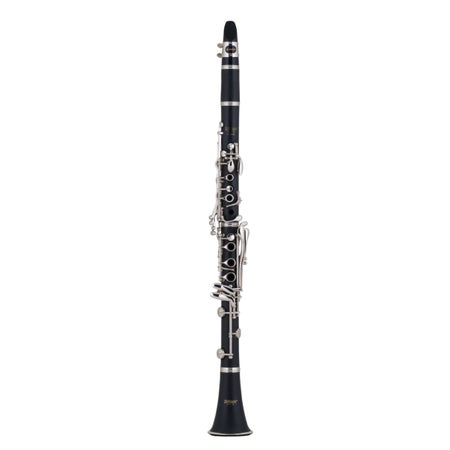 MODEL 1400B
Based on the original designs of George Bundy's student clarinets, Selmer clarinets offer construction that is built to last a lifetime.  Combining durable drop forged nickel silver keys, straight cut tone holes, and a satin wood like finish, these instruments will hold up year after year. 

The 1400B clarinet is designed to be free blowing, allowing students to produce a full sound.
FEATURES
Large .590" bore is free blowing and provides a full sound.  Larger bore instruments will help students develop lung capacity early on.
Large straight tone holes, limit resistance found on undercut instruments making it easy for students to achieve a large full sound early on.
Specially designed drop forged, nickel-silver keys are durable and resistant to bending. 
Wide pinky key designs make it easy for students with smaller fingers to reach.
The satin wood like finish gives the instrument a sleek elegant look.
Built in the USA (Elkhart, Indiana), the Selmer 1400B has built a foundation of trust with educators around the world. 
 
TECH SPECS
Bb Soprano
Resonite ABS body
Nickel Silver Keys
Cylindrical Bore
Large Bore Size
Fixed Thumb-rest
Leather Pads
Hard Rubber Mouthpiece
ABS Case