M48S Ludwig 3 Oct Pro Traveler Vibe, Silver Bars

Out of stock - Call for Availability
3 Oct Pro Traveler Vibe, Silver Bars
Pro-Traveler Vibe is an ingenious collaborative effort between Musser and acclaimed vibist Gary Burton. A remarkable combination of superb musicality and easy portability, the Pro-Traveler completely disassembles to fit in storage areas as compact as a car back seat. Crossbar and damper mechanisms separate into smaller pieces. Metal legs detach quickly, and frame rai... See More
ASK AN EXPERT
We're here and ready to help!
800-637-8966
Hablamos Español

Out of stock - Call for Availability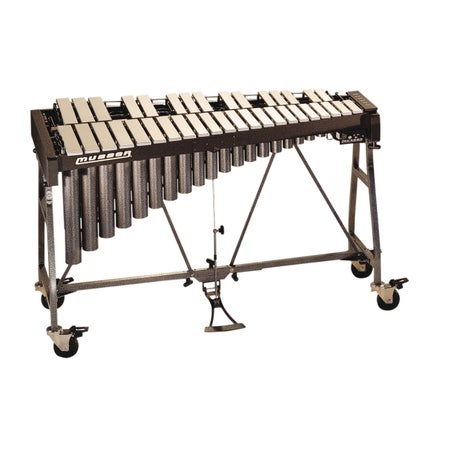 3 Oct Pro Traveler Vibe, Silver Bars
Pro-Traveler Vibe is an ingenious collaborative effort between Musser and acclaimed vibist Gary Burton. A remarkable combination of superb musicality and easy portability, the Pro-Traveler completely disassembles to fit in storage areas as compact as a car back seat. Crossbar and damper mechanisms separate into smaller pieces. Metal legs detach quickly, and frame rails fold in half. All components are durable, including the baked-on frame finish with Total Lock casters. The 3-octave vibraphone features wide graduated aluminum bars finished in either gold or silver. The perfect instrument for the gigging vibist.
Specifications

Multi-Speed Motor
Yes
Octave Range
3 Octaves
Note Range
F3 - F6
Standard Tuning
A=442
Bar Material
Aluminum
Bar Finish
Gold/Silver
Bar Graduation
1.5" - 2.25"
Resonators
Aluminum
Resonator Shape
Straight
Resonator Finish
Gold Vein Powder Coat/Silver Powder Coat
Frame Style
Removable Aluminum Legs