Out of stock - Call for Availability
El Maestro - "The Master"

The LG3E is the premier instrument of
the H. Jimenez Guitar line. The design of
the Thunderwing bridge coupled with the
brightly voiced Spruce top and high-quality
Mahogany back and sides give this
instrument a vivid, lush tone. The
exceptionally comfortable playerfriendly
neck features a fine Rosewood fingerboard
and is... See More
ASK AN EXPERT
We're here and ready to help!
800-637-8966
Hablamos Español

Out of stock - Call for Availability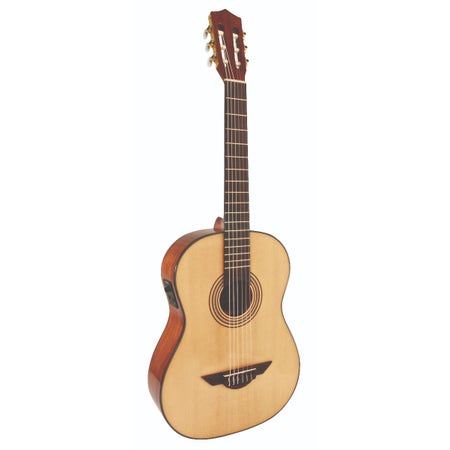 El Maestro - "The Master"

The LG3E is the premier instrument of
the H. Jimenez Guitar line. The design of
the Thunderwing bridge coupled with the
brightly voiced Spruce top and high-quality
Mahogany back and sides give this
instrument a vivid, lush tone. The
exceptionally comfortable playerfriendly
neck features a fine Rosewood fingerboard
and is uniquely highlighted with pinstripe
fingerboard binding.

The ultra smooth action, gold-etched
tuners with deluxe white pearloid buttons
and gold-beaded tips exemplify our
attention to detail and dedication to
quality. A Fishman™ Clásica II pickup with
a built-in tuner, active pre-amp, volume
and tone controls completes the premium
features of the LG3E.