GÏ‹nter Maibach 1/2 Cello Outfit - GM150CE12

Out of stock - Call for Availability
GÏ‹nter Maibach 1/2 Cello Outfit
ASK AN EXPERT
We're here and ready to help!
800-637-8966
Hablamos Español

Out of stock - Call for Availability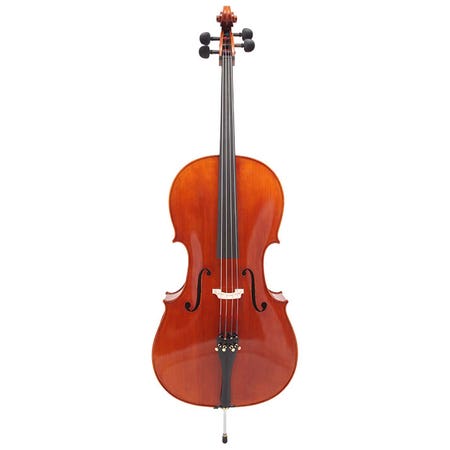 GÏ‹nter Maibach 1/2 Cello Outfit
Product Information:
"The Hybrid"
The GM150CE Cello outfit includes a brazilwood bow, Prelude style chrome steel strings, four fine tuners and a medium padded bag with a heavy duty zipper. Each cello has an aged spruce top with inlaid ebony purfling which projects a beautiful clear tone and laminated maple tone woods for the back and ribs.
The instrument is hand fitted with an ebony fingerboard, pegs and tailpiece and has a custom "voiced" maple bridge. The cello is finished with a beautiful amber colored satin varnish that is both bright and translucent. "The Hybrid" is entirely handmade in a workshop that is virtually identical to the German workshops of the late 1800's. This outfit is available in 4/4, 3/4, 1/2, and 1/4 sizes.

Features:
Four fine tuners
Aged spruce top with inlaid ebony purfling
Maple laminate tone woods for the back and ribs
Custom "voiced" maple bridge
Prelude style chrome steel strings
Brazilwood bow
Medium padded bag with a heavy duty zipper
6 year warranty

Specifications:
Model Name: GÏ‹nter Maibach 1/2 Cello Outfit
Model #: GM150CE12
Series: 1/2 cello