3003S Getzen Bb Genesis Custom Bb Trumpet - Bright silver plate

Out of stock - Call for Availability
3003 Genesis
The 3003 Genesis is built around a solid design that produces a very powerful, round tone. Heavy bracing, an ovate tuning slide crook, a .462" valve set, and a large throat bell all combine to make it perform evenly and responsively throughout the entire register while maintaining a free and open feel. In addition to those great features, the Genesis includes our ground brea... See More
ASK AN EXPERT
We're here and ready to help!
800-637-8966
Hablamos Español

Out of stock - Call for Availability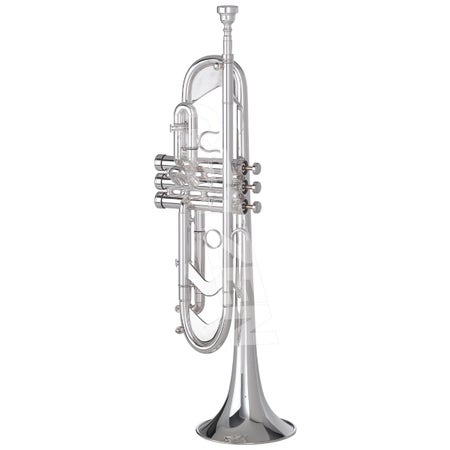 3003 Genesis
The 3003 Genesis is built around a solid design that produces a very powerful, round tone. Heavy bracing, an ovate tuning slide crook, a .462" valve set, and a large throat bell all combine to make it perform evenly and responsively throughout the entire register while maintaining a free and open feel. In addition to those great features, the Genesis includes our ground breaking Interchangeable Leadpipe System (ILS). The ILS allows players the ability to switch between a Standard or Open leadpipe depending on their specific needs — in essence, giving players the ability to have two trumpets in one. All combined, these great features make the 3003 one of the most versatile trumpets available.
3003
Bb Trumpet
Bore Size:
.462"
Slides:
Hand lapped yellow brass
Ovate crook tuning slide
Mouthpipe:
Interchangeable leadpipe system with 2 leadpipes
(S = Standard; O = Open)
Bell:
5 1/8" flare, hand hammered, one piece, yellow brass with large throat
Intonation Aids:
First slide saddle, third slide ring
Mouthpiece:
1C Trumpet
Finish:
Bright silver plate
Warranty:
Getzen Platinum Warranty
Lifetime Valve Warranty