Conn 88H Professional Trombone Slide Assembly Model SL2547

Out of stock - Call for Availability
Conn 88H Series SL2547 Trombone Slide Assembly, 525/547 Dual Bore w/3 Leadpipes Medium-Large dual bore slide combines a medium bore 0.525" upper tube with a large bore 0.547" lower tube. Designed to increase focus and clarity in the upper register while increasing stamina. Good choice for the principal symphonic or concert band player. Used by Ralph Sauer, principal trombonist of the Los Angeles Philharmonic. Inclu
... See More
ASK AN EXPERT
We're here and ready to help!
800-637-8966
Hablamos Español

Out of stock - Call for Availability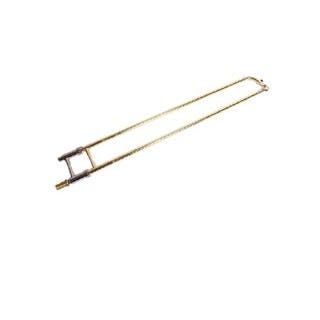 Conn 88H Series SL2547 Trombone Slide Assembly, 525/547 Dual Bore w/3 Leadpipes Medium-Large dual bore slide combines a medium bore 0.525" upper tube with a large bore 0.547" lower tube. Designed to increase focus and clarity in the upper register while increasing stamina. Good choice for the principal symphonic or concert band player. Used by Ralph Sauer, principal trombonist of the Los Angeles Philharmonic. Includes three interchangeable leadpipes, models H, T and X. Original OEM item made by Conn at the Eastlake, Ohio plant.