Conn Professional Bass Trombone Model 62HCL

Out of stock - Call for Availability
MODEL 62HCL
The story of the C.G. Conn trombone ultimately begins in 1875 with the vision and determination of one man: Colonel C.G. Conn. Founding a band instrument manufacturing company in the small town of Elkhart, Indiana, C.G. Conn quickly became known for his innovative brass designs and became the largest producer of trombones in the United States and earned the lasting reputation as "America's t... See More
ASK AN EXPERT
We're here and ready to help!
800-637-8966
Hablamos Español

Out of stock - Call for Availability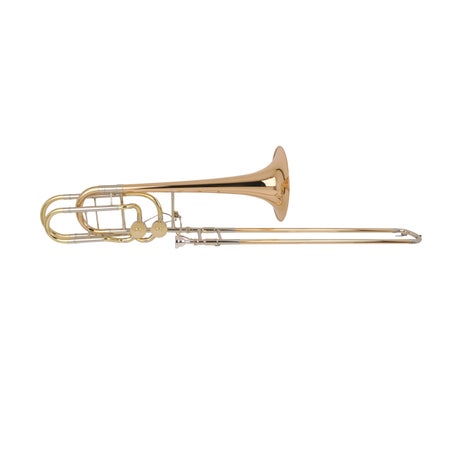 MODEL 62HCL
The story of the C.G. Conn trombone ultimately begins in 1875 with the vision and determination of one man: Colonel C.G. Conn. Founding a band instrument manufacturing company in the small town of Elkhart, Indiana, C.G. Conn quickly became known for his innovative brass designs and became the largest producer of trombones in the United States and earned the lasting reputation as "America's trombone house." C.G. Conn trombones are recognized for their unique tone color and refusal to "break up" even at the most extreme dynamics making it one of the most widely used professional symphonic trombones in the world. C.G. Conn trombones, a future as bright as their past.
FEATURES
The C.G. Conn 62HCL in-line independent double rotor bass trombone in the key of Bb/F/Gb features an 9-1/2" professional rose brass bell producing a warm, rich sound. The .562" primary bore combined with the .594" bore through rotor sections offers outstanding clarity and projection with less resistance. The F/Gb sections feature the patented "CL2000" valves designed by renowned solo trombone artist Christian Lindberg. The unique design is extremely efficient, smooth, and quick and removes any resistance normally found in a traditional rotor valve. They also boast the shortest "throw" of any trombone on the market today providing the quickest transition to the F/Gb side of the trombone. The chrome plated nickel silver inner handslide tubes provide the ideal surface for smooth and quick handslide action. The clear lacquer finish adds a subtle warmth to the sound overall. The C.G. Conn 62HCL professional bass trombone is ideal for both symphonic and solo performance.
TECH SPECS
Double in-line independent system
.562" primary bore
.594" bore through rotor sections
9-1/2" rose brass bell
Open wrap valve systems with patented CL2000 rotors
Three interchangeable leadpipes
Clear lacquer finish
C.G. Conn 1-1/2G mouthpiece
7562P case