Conn Vintage One Professional Flugelhorn Model 1FR

Out of stock - Call for Availability
Model 1FR
C.G. Conn brings back old-world craftsmanship in the Vintage One series. Developed over a period of a year and a half with input from forty professional players around the world, the Vintage One flugelhorn is both elegant in design and warm and rich in sonority. Combining the research of classic design and the precision of modern technology, Vintage One is the ultimate in... See More
ASK AN EXPERT
We're here and ready to help!
800-637-8966
Hablamos Español

Out of stock - Call for Availability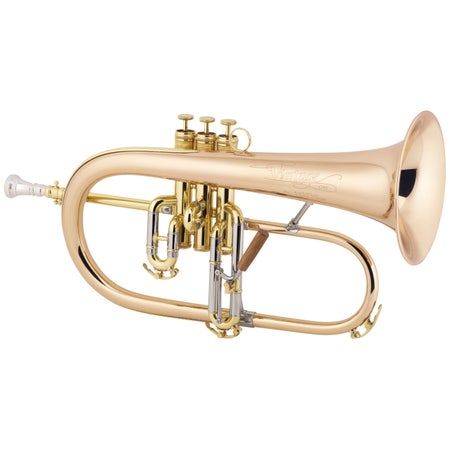 Model 1FR
C.G. Conn brings back old-world craftsmanship in the Vintage One series. Developed over a period of a year and a half with input from forty professional players around the world, the Vintage One flugelhorn is both elegant in design and warm and rich in sonority. Combining the research of classic design and the precision of modern technology, Vintage One is the ultimate in flugelhorn performance.
FEATURES
The Vintage One 1FR flugelhorn was designed to be well balanced and compatible with the player's concept of sound. It combines a responsive .413" bore and a warm resonant one-piece hand-hammered rose brass bell reinforced with a bell bow guard to produce a beautiful, warm, luscious sound. Unlike other flugelhorns, the design of the 1FR holds true intonation when playing above the staff. Professional Monel pistons provide smooth and quick action while the comfortable wood handle 3rd slide trigger allows for quick adjustments. The clear lacquer finish provides a subtle warmth to the overall sound. The C.G. Conn 1FR, a flugelhorn with as sound as good as it's looks.
TECH SPECS
C.G. Conn "Vintage One" - key of Bb
.413" bore
Hand-hammered one-piece rose brass bell
Tunable mouthpipe
3rd slide trigger
Monel pistons
Clear lacquer finish
CKB 3FL mouthpiece
7946C woodshell case
Available in silver-plate finish as model 1FRSP