D'Addario EJS86 Bajo Sexto Stainless Steel Strings

Out of stock - Call for Availability
Stainless steel wrap wire for an extra-bright tone that is magnetically responsive for instruments with electromagnetic pickups.-
Loop end strings designed specifically for the Bajo Sexto
String Gauges: Wound .026/.026, .036/.036, .046/.046, .062/.030, .078/.036, .092/.046
Environmentally friendly, corrosion resistant packaging for strings that are always fresh.
Made in the U.S.A. for the highes... See More
ASK AN EXPERT
We're here and ready to help!
800-637-8966
Hablamos Español

Out of stock - Call for Availability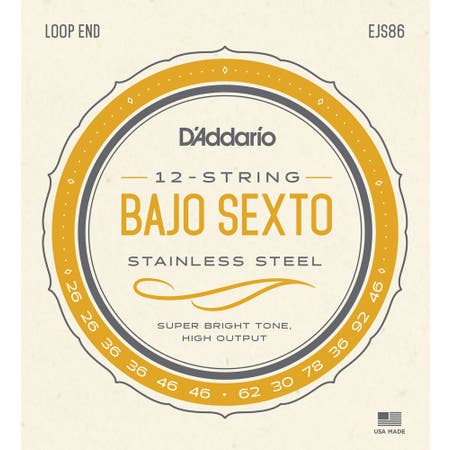 Stainless steel wrap wire for an extra-bright tone that is magnetically responsive for instruments with electromagnetic pickups.-
Loop end strings designed specifically for the Bajo Sexto
String Gauges: Wound .026/.026, .036/.036, .046/.046, .062/.030, .078/.036, .092/.046
Environmentally friendly, corrosion resistant packaging for strings that are always fresh.
Made in the U.S.A. for the highest quality and performance.