LTS429FG Ludwig 29" Fiberglass Bowl with Pro Tuning Gauge

Out of stock - Call for Availability
29" Fiberglass Bowl with Pro Tuning Gauge
Fiberglass Bowl with Pro Tuning Gauge
Pedal-Activated Adjustable Gauges
Permanent Third Wheel
Lightweight Aluminum Bowl
Balanced Action Pedal
Double-Ring Suspension Design
Detachable Rear Casters
Ludwig Standard Series Timpani are designed to deliver a high-end, quality sound at an affordabl... See More
ASK AN EXPERT
We're here and ready to help!
800-637-8966
Hablamos Español

Out of stock - Call for Availability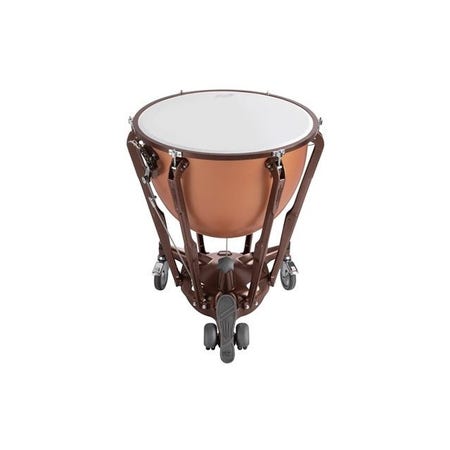 29" Fiberglass Bowl with Pro Tuning Gauge
Fiberglass Bowl with Pro Tuning Gauge
Pedal-Activated Adjustable Gauges
Permanent Third Wheel
Lightweight Aluminum Bowl
Balanced Action Pedal
Double-Ring Suspension Design
Detachable Rear Casters
Ludwig Standard Series Timpani are designed to deliver a high-end, quality sound at an affordable price. These drums are 3-wheeled and portable, with a durable gauge design, and a seamlessly smooth pedal that is exact with every adjustment.
Standard series drums come with side-mounted, adjustable, pedal-activated tuning gauges that make quick tuning a breeze as long as the heads are tuned and the gauges are set. The balanced-action pedal is instant to adjust, and is extremely smooth and balanced as the name suggests.
The aluminum shell design means this drum is relatively lightweight and extremely durable, making it long-lasting and reliable, indoors or outdoors. The shell is perfect for marching band or drum corps as well!
A permanent third Omni wheel is also included under the pedal, with 360-degree movement, making it easy to find exact placement for your drum. The rear casters are large, smooth, and detachable to help fit through tight spaces, and have highly effective brakes to help make sure the drums don't move when tuning.
Each drum comes included with a fiber head protector, to help your drums stay in-tune when they're not in use, as well as a shallow drop cover, and a tuning key. These drums also come standard with Ludwig Ensemble Smooth White Timpani Heads.