LTS402PG Ludwig Set of 2 (26" & 29") Polished Copper Bowl with Pro Tuning Gauge

Out of stock - Call for Availability
LTS402PG Ludwig Set of 2 (26" & 29") Polished Copper Bowl with Pro Tuning Gauge
ASK AN EXPERT
We're here and ready to help!
800-637-8966
Hablamos Español

Out of stock - Call for Availability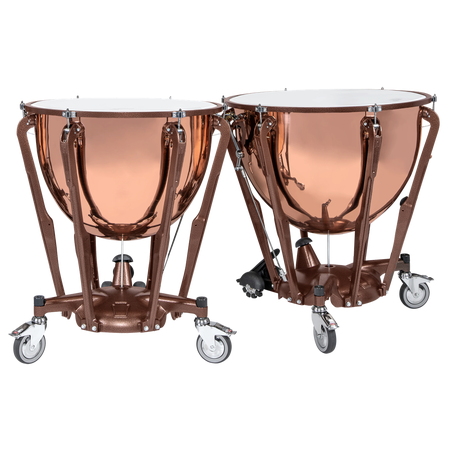 Ludwig's newly redesigned Standard Series Timpani are now better than ever. Key improvements to the patented Balanced Action Timpani everyone is familiar with, include a permanent third Omni wheel under the pedal, detachable quick-release rear casters, and a side mounted tuning gauge that can be mounted for American or German setup configurations. The permanent third Omni wheel under the pedal allows for 360° fluid movement, giving the player total control of drum placement. Also, the rear casters are larger, have upgraded braking, and a quick-release function should you need to remove them to get the drums through tight spaces. The tuning gauges have had their linkage removed from the pedal and seamlessly transferred under the base of the drum. The new side mounted placement will allow these drums to be configured with American or German set-up. The Standard Series timpani feature the same Balanced Action Pedal system as the Professional and Grand Symphonic but instead of being a suspended bowl, the Standard Series struts mount directly to the bowl. Standard Series drums are available in fiberglass and polished copper bowls.